Discover more from Phil Windley's Technometria
Digital identity and decentralized systems
Web3 and Digital Embodiment; Technometria - Issue #36

Web3 will make a difference for all of us if it enables people to become digitally embodied, able to recognize, remember, and react to other people and organizations online–without the need to be in someone else's database.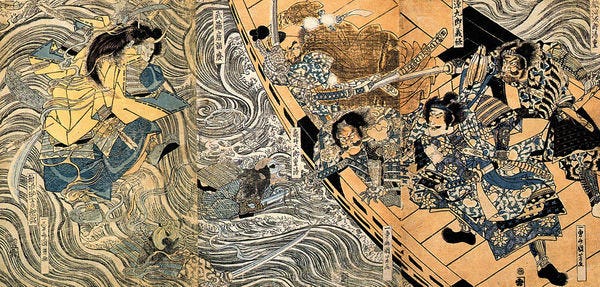 The ghost of Taira Tomomori
Tim O'Reilly recently published Why it's too early to get excited about Web3, an excellent discussion on industrial transformation and the role that bubbles play. He used this historical lens to look at Web3 and where we might be with all of it.
One of Tim's points is that we fluctuate between decentralized and centralized models, using Clayton Christensen's law of conservation of attractive profits to show why this happens. He says:
I love the idealism of the Web3 vision, but we've been there before. During my career, we have gone through several cycles of decentralization and recentralization. The personal computer decentralized computing by providing a commodity PC architecture that anyone could build and that no one controlled. But Microsoft figured out how to recentralize the industry around a proprietary operating system. Open source software, the internet, and the World Wide Web broke the stranglehold of proprietary software with free software and open protocols, but within a few decades, Google, Amazon, and others had built huge new monopolies founded on big data.
Tim's broader point is that while there's a lot of promise, the applications that deliver a decentralized experience for most people just aren't there yet. Enthusiasts like to focus on decentralized finance or "DeFi" but I (and I think Tim) don't think that's enough. While centralized payments are a big part of the problem, I don't think it's the most fundamental. The most fundamental problem is that people have no place to stand in the modern web. They are not digitally embodied.
In Why Web3?, Fred Wilson, who has as deep an understanding of how the underlying technology works as anyone, explains it like this:
It all comes down to the database that sits behind an application. If that database is controlled by a single entity (think company, think big tech), then enormous market power accrues to the owner/administrator of that database.
This is why I think identity is the most fundamental building block for Web3 and one that's not being talked about enough yet. Identity is the ability to recognize, remember, and react to people, organizations, systems, and things. In the current web, companies employ many ponderous technological systems to perform those functions. I don't just mean their authentication and authorization systems, the things we normally associate with identity, but everything they use to create a relationship with their customers, partners, and employees—think of the CRM system, as just one example.
In these systems, we are like ghosts in the machines. We have "accounts" in company's systems, but no good way to recognize, remember, and react to them or anyone else. Self-sovereign identity (SSI) gives people the software and systems to do that. Once we can recognize, remember, and react to others online (with software we control, not just through the fragmented interfaces of our mobile devices) we become digitally embodied, able to take action on our own.
With SSI, Fred's application databases are decentralized. That's not to say that companies won't continue to have systems for keeping track of who they interact with. But we'll finally have systems to keep track of them as well. More importantly, we get ways to interact with each other without having to be in their systems. That's the most important thing of all.
I've no doubt that there will be adjacent areas with attractive profits that lead to other forms of centralization, as Tim suggests. But, SSI, DeFi, and other Web3 technologies change the structure of online interaction in ways that will be difficult to undo. SSI, more specifically DIDComm, creates a secure, identity-enabled, privacy-respecting messaging overlay on top of the internet. This changes the game in important ways that level the playing field and creates a new layer where applications cab be built that naturally respect human dignity and autonomy.
That doesn't mean that non-interoperable and non-substitutable applications won't emerge. After all, Google, Facebook, Apple, Amazon, and others became dominant through network effects and there's nothing about Web3 that reduces those. The only thing that does is continued work on standards and interoperability along with our insistence on digital rights for people. We're all a part of that effort. As I tell my students: Build the world you want to live in.
Why it's too early to get excited about Web3 – O'Reilly
There's been a lot of talk about Web3 lately, and as the person who defined "Web 2.0" 17 years ago, I'm often asked to comment. I've generally avoided doing so because most prognostications about the future turn out to be wrong. What we can do, though, is to ask ourselves questions that help us see more deeply into the present, the soil in which the future is rooted. As William Gibson famously said, "The future is already here. It's just not evenly distributed yet." We can also look at economic and social patterns and cycles, using as a lens the observation ascribed to Mark Twain that "history doesn't repeat itself, but it rhymes."
Over the last month, there has been a ton of debate and conversation about web2 vs web3 with many leading voices raising doubts about web3. Debate and doubt are healthy. And web3 enthusiasts, particularly on Twitter, remind me of missionaries trying to recruit the unwashed to their belief system. Frankly, it is all too much […]
We build digital identity systems to create and manage relationships—not identities. We need our digital relationships to have integrity and to be useful over a specified lifetime. Identity systems should provide relationship integrity and utility to participants for the appropriate length of time. Participants should be able to create relationships with whatever party will provide utility. SSI provides improved support for creating, managing, and using digital relationships.
DIDComm and the Self-Sovereign Internet
DIDComm is the messaging protocol that provides utility for DID-based relationships. DIDComm is more than just a way to exchange credentials, it's a protocol layer capable of supporting specialized application protocols for specific workflows. Because of its general nature and inherent support for self-sovereign relationships, DIDComm provides a basis for a self-sovereign internet much more private, enabling, and flexible than the one we've built using Web 2.0 technologies.
End Notes
That's all for this week. Thanks for reading.
Please follow me on Twitter.
If you enjoyed this, please consider sharing it with a friend or twenty. Just forward this email, or point them at my news page.
I'd love to hear what you enjoyed and what you'd like to see more (or less) of. And if you see something you think I'd enjoy, let me know. Just reply to this email.
P.S. You may be receiving this email because you signed up for my Substack. If you're not interested, simply unsubscribe.
Photo Credit: Kuniyoshi Utagawa, The ghost of Taira Tomomori, Daimotsu bay from Kuniyoshi Utagawa (CC0)
© 2021 Phillip J. Windley. Some rights reserved. Technometria is a trademark of PJW LC.
By Phil Windley
I build things; I write code; I void warranties
In order to unsubscribe, click here.
If you were forwarded this newsletter and you like it, you can subscribe here.
Powered by Revue